Storage is essential in a meat wholesaler facility. From Goods-In to packing and shipping, the integrity of the meat is vital. In addition, there are many ways the meat can be contaminated, whether in storage or throughout the process of fulfilling an order, which is why having an effective storage process is crucial to comply with food safety regulations and prevent mass breakouts of illness and food poisoning.
We explore how you can improve your efficiency and processes with the help of our storage boxes for meat, along with some of our other options to upgrade your storage facilities.
What are the Legal Requirements for Meat Establishments?
The most important consideration for storing large quantities of meat is the legal requirement that must be met to ensure the safety of the produce. Unlike other foodstuffs, meat can easily be contaminated and grow harmful bacteria if not taken care of. This bacteria growth can lead to food poisoning and illness, so it should be taken seriously.
All premises where the food is stored must be clean and in good repair. There must be daily upkeep from surfaces to floors and equipment to ensure this is maintained. Cross-contamination should be prevented by cleaning surfaces thoroughly between each use and changing in meats. Airflow from rooms with contaminated atmospheres, such as waste and disposal sites, must be avoided, and the environment must be kept at cold levels to prevent the growth of bacteria.
Temperatures throughout the storage facilities must be kept at a consistent level. Whilst in storage, fresh meat must not exceed 2°C or be frozen to an internal temperature not lower than -18°C.
Storage of Meat at Goods In
A commercial meat facility has various stages of storage for the products. In previous years, the carcass was delivered in full. Still, as the industry becomes more efficient, many facilities are receiving the items broken down into hinds and quarters from the slaughterhouse. So, when the products arrive, they can be stored much more efficiently.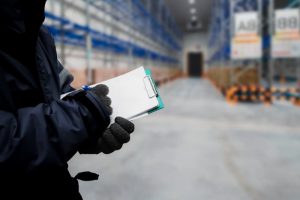 Upon arrival, they are usually in cardboard boxes and often vacuumed into clear packaging for ease. These boxes should be opened upon arrival, and the items should be stored in more substantial crates and storage containers. While acceptable for transportation, cardboard can quickly soak moisture and disintegrate from condensation in cold storage rooms. This process can subject the container to bacteria growth and potentially contaminate the meat. With the likes of our plastic pallet boxes with drop-down sides, you can be sure that the container will withstand the cold temperatures of the Good-In storage room whilst keeping your products in one place and accessible.
Transporting Meat Through the Facility
When dealing with large quantities of meat through facilities of industrial size, it must be done carefully to prevent food contamination. This is where plastic dollies come in helpful, along with a range of smaller plastic containers. From the minute the items are delivered, your establishment is responsible for safely handling the products until they are distributed, so transporting them must be done with care but efficiently.
Whether you need a few products or the entire crate, having a dollie will prevent heavy lifting and quickly transport loads of various quantities throughout the building. In addition, by offering your staff this piece of equipment, you avoid the risk of injury from heavy lifting and a more efficient process, reducing time and costs.
Colour Co-ordinated Storage for Reduced Packing Queries
Having a colour co-ordinated system through your factory can minimise the time for finding items. For example, you could colour co-ordinate by meats such as beef, lamb and chicken. Alternatively, you could co-ordinate by cuts, such as sirloins, rumps and racks. Using colour will help your packing teams to quickly identify where they can find the necessary products to fulfil orders once the butchers have cut the meat.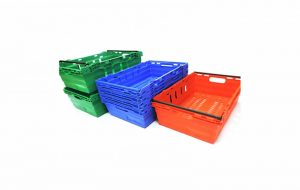 You could also use colour to indicate orders. For example, many customers may require their products to be cut differently from others. To separate their orders from other customers, you can be sure that the order is correct each time by colour co-ordinating each customer. In addition, if you have customers expecting large orders, by offering using colour to identify them, you can ensure that their orders are not lost among other customers' orders.
Shelving for Meat Storage Rooms
Although metal racking offers a substantial ability to house significant loads, over time, it can rust, contaminating any food items that may be stored on the shelving. In addition, due to the cold temperatures of the storage rooms, condensation can quickly build up in storage rooms. Therefore, adequate shelving that isn't compromised by moisture build-up is essential.
Plastic shelving is an ideal option for efficiently storing meat and food products. They are robust enough to store items, and their construction prevents them from deteriorating when met with condensation. In addition, swapping metal to plastic can save you money over time and control unhygienic store rooms.
Stackable Containers for Cutting
As a busy factory, your butchers may be expected to cut a significant amount of meat at once. By offering your staff stacking food containers, they can continue their work without the downtime of finding new storage boxes, reducing the space needed for the various cuts of meat.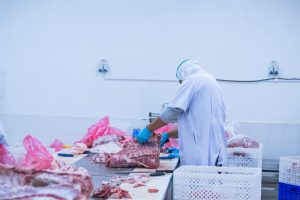 It allows your butchers to do what they do best and easily store the cuts of meat until they are ready to be transported to another part of the facility to be processed for shipping. This will improve the overall efficiency of your process.
Plastic Storage for Safer Hygiene
As mentioned above, hygiene is essential for a meat processing facility, so plastic containers are an efficient option for practical storage. In addition, their durability can withstand colder temperatures, which may be subject to condensation and the constant cleaning they require between each use.
As leading plastic storage box suppliers in the UK, we provide a vast selection of plastic storage solutions compliant with health and safety regulations. Our products are made with HDPE (high-density polyethene) or MDPE (medium-density polyethene), a food-grade material that offers clean and safe storage of food items. We also supply a range of plastic pallets, which offer even more benefits to your storage facility by keeping your plastic storage boxes from touching the floor and preventing contamination. These are much better than wooden pallets, especially for colder environments and are a worthwhile investment for your business.
Look through our extensive selection for your storage needs, or feel free to enquire online if you have any questions.