Pallets are a standard tool for businesses to transport and store valuable goods. Unfortunately, the initial wooden materials used for pallets have slowly become inadequate, with rotting or damaged pieces causing problems. Additionally, with eCommerce outpacing the high street in popularity, more warehouse space is being filled with increasingly large stacks of goods upon pallets that need to be relied upon.
The increasing reliance upon pallets for international transportation and more extensive stock storage demanded a better material, hence the development of plastic over wood pallets.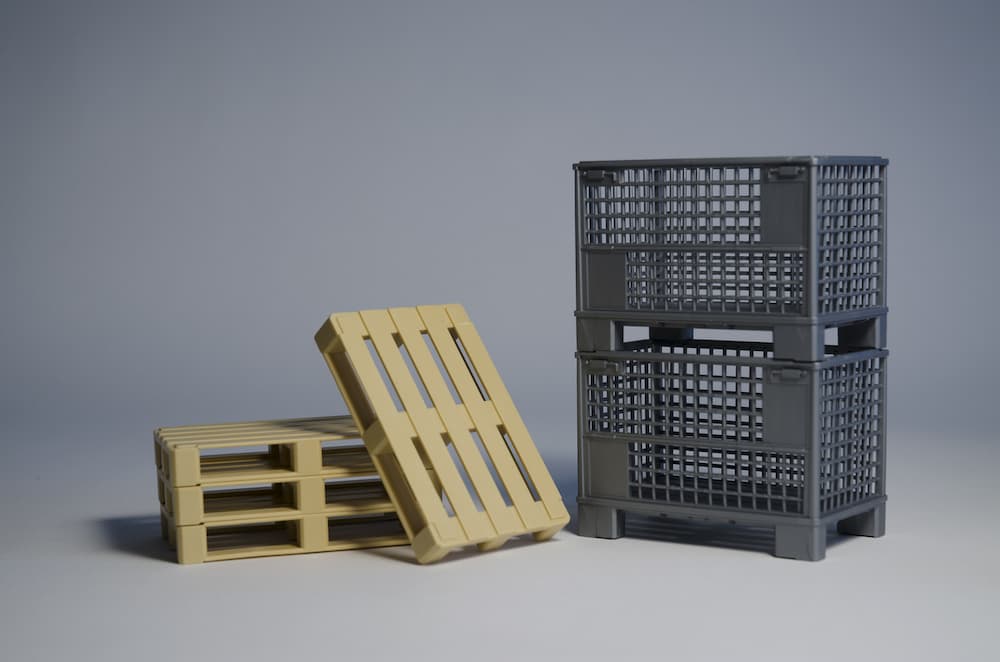 The Negatives of Wood Pallets
The initial pallets created were made of wood, and this trend continued for many years despite the inherent failings of the material. There are several reasons many businesses choose wooden pallets. Wood is a cheap material to purchase and easy to recycle and repair, but these benefits also have regrettable long-term negatives. For example, the ease of the repairs means very little when you have to repair them often.
Whilst wooden pallets were able to perform a great job, that time seems to have passed. Apart from being the heaviest pallet material choice, wood is a material unsuited to workplaces that demand hygiene. Wood is a complex material to clean and encourages bacteria to develop within the wood grain and become contaminated or damp. These uncontrollable hazards make wood unacceptable for some industries, such as food and pharmaceuticals, making plastic pallets the number one choice for their plastic storage solutions.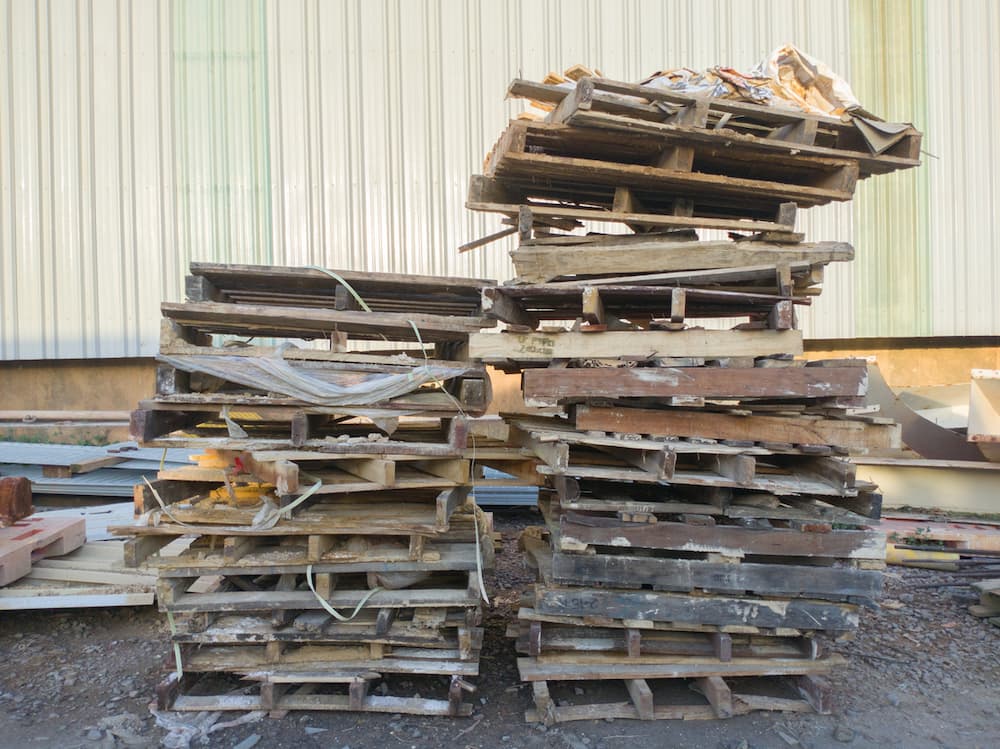 Plastic Pallets for Business
Pallets can be a part of every level of your daily operations, from helping to protect your valuable stock to logistics, material handling and transportation. In addition, these useful tools have become helpful in improving other areas of the business.
The storage aspects of pallets are the most well-known. By taking your stock off the floor, you can provide essential protection from contaminants and create a more organised layout that your staff can navigate easily. For perishable items, this solution can also provide vital air circulation.
Logistics and transportation are made more straightforward thanks to using pallets. Durable plastic pallets allow managers to create a templated inventory that makes recording their stock movements far easier. The efficiency of loading up a delivery vehicle is also significantly improved when using pallets. Saving time from loading up a lorry by hand is invaluable for any manager, and with a helpful tool such as a pallet truck, you can load immense numbers of products swiftly. However, this is an area where wooden pallets can easily let you down, as a broken pallet will strand your products and require moving each item by hand.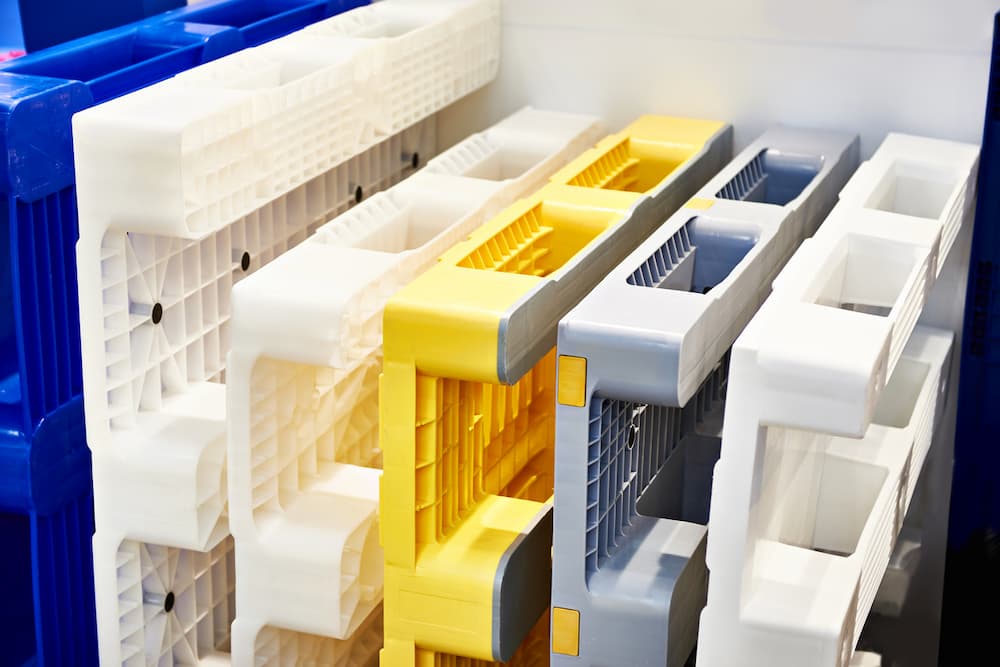 Choosing Recycled Plastic Pallets
Plastic pallets from Allison Handling are entirely health and safety compliant as they avoid the lost splinters and connectors that break off wooden counterparts. These durable pallets are manufactured from HDPE (high-density Polyethylene) or rotationally moulded MDPE (medium-density polyethene). This food-grade alternative can handle significant weight allowing you to transport or store your goods in bulk.
Because these pallets are moulded rather than assembled, you avoid an issue common with damaged wooden pallets where nails or screws can loosen and risk parts of the pallet becoming disconnected. In addition, the solid nature of these plastic pallets makes damaging them a much more difficult challenge and thereby further ensures the safety of your workers.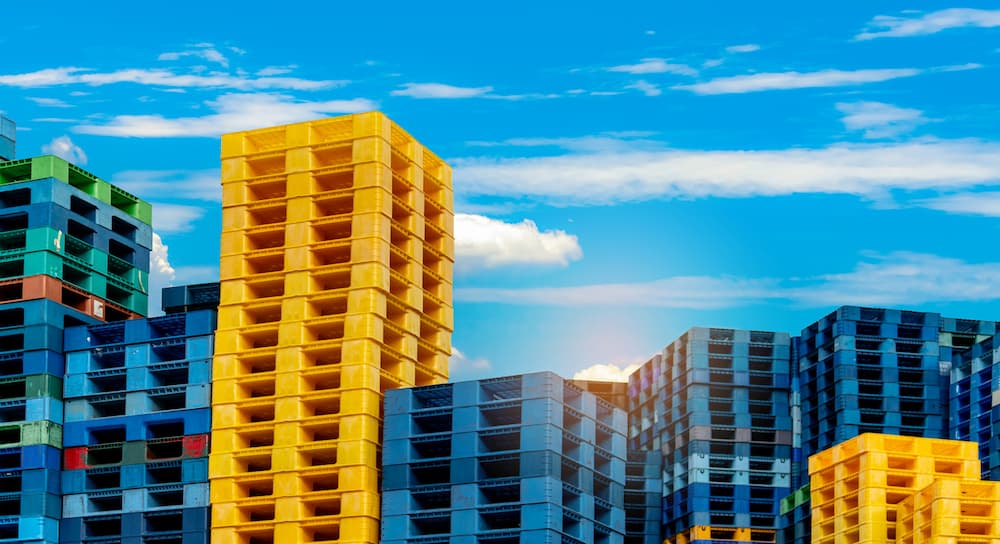 Plastic Pallet Upgrades
Plastic pallets are valid for every industry, but they are the pallet of choice for a food-based business. However, these pallets' benefits are incomplete without a selection of plastic storage boxes to store your produce in. We stock a broad range of plastic storage solutions, including euro stacking containers made of robust polypropylene and colour coated to identify the contents quickly. By combining these two plastic choices, you provide complete confidence in the hygiene of your food storage.
Plastic pallets have continued to evolve with new designs meeting the needs of many businesses. The classic flat rectangular shape is no longer your only choice. We can supply the highly sought-after Dolav boxes, an excellent choice for conveniently transporting bulky items due to the raised sides they provide. This lightweight design choice ensures that the stored products are securely held within the footprint of the pallet. Similarly, our folding pallet boxes are adaptable variations of the classic pallet design. They are often used in the food manufacturing and agricultural industries as they provide everything those businesses need to protect their perishable produce.
Allison Handling is the centre of plastic storage solutions in the UK. We are the largest independent stockist of plastic pallets, boxes and other options made from recycled plastics. Most of our products are perfect for the food catering, manufacturing and retail sectors. You can get a quote about our excellent range of products here.