The popularity of online commerce has created many new small businesses that require space to store their backstock of goods. It is very much a cliché, but most new small companies that start from modest beginnings will keep their bulk stock in their homes or garden sheds, pilled up in boxes from floor to ceiling, but this is unpractical and should only be a short-term solution.  
Any business, large or small, will need a place to store its stock in a clean, safe and efficient manner. This is the main reason for the popularity of warehouses. Their role is well established as a great way to look after your products. But simply putting the boxes in the building isn't enough. A good storage space such as a warehouse is only as valuable as the storage methods. An effective storage solution can take care of your stock whilst significantly increasing your productivity as well.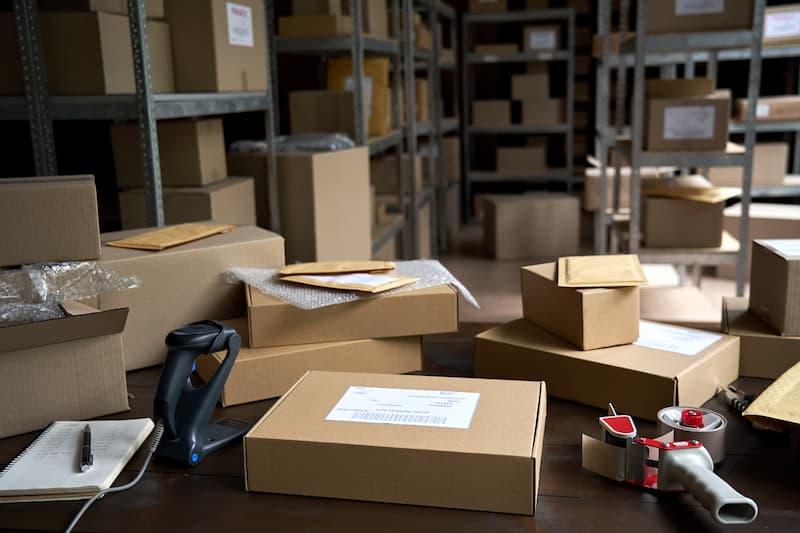 Warehouse Benefits For Businesses   
A growing business is always a good thing, but it will also come with unique challenges. For example, it's common to assume that a warehouse is something only large companies use to store their valuable stock and that a small business shouldn't invest in one, but this is not true.  
As small businesses grow, the need for a dedicated area for storing your stock grows also. Keeping all your whole inventory seems a fine idea for a while, but eventually, you'll need to upgrade to larger storage space.  
Choosing a warehouse will benefit any business with the obvious advantage of increased storage space. The increase in the area allows you more room to fill and gives you the freedom to organise your stock. For example, dedicating certain shelves to specific products will make finding them later on much more straightforward. Many storage solutions, such as racking or shelving, can improve your inventory; it's essential to find the right ones to suit your business. 
Storage Shelves  
Shelving units are a perfect choice for improving any warehouse or storage space. You can make significant improvements to your storage by simply implementing a durable shelving system.  
A critical consideration for your storage shelves is the material they are made from. Wooden shelving is the classic type. When made with high-quality wood, it can be sturdy and long-lasting. However, wooden shelving will need to be inspected regularly for any potential damage and wear despite its everyday use. In the wrong environment, such as one susceptible to moisture, like a frozen food warehouse, a wooden shelving system will begin to rot and present itself as a significant problem for your warehouse.  
Metal Shelving is an excellent alternative to wood. It's more robust and durable but similar to choosing wood though you need to consider the environment of the warehouse. If you choose metal, you would need to make sure it's resistant to rust with materials like stainless steel to prevent a severe problem from forming later on.  
Plastic storage shelves may seem like a modern innovation being embraced for warehouse storage, but it has been a solution for many years. The increase in popularity is due to improvements in the quality of the materials leading to far stronger shelving units and other benefits. 
Most plastic shelving is antimicrobial, protecting it from stains and odour causing bacteria and preventing moulds from forming, something that metal and wooden shelving can only achieve with epoxy coatings that will need reapplying as they flake over time.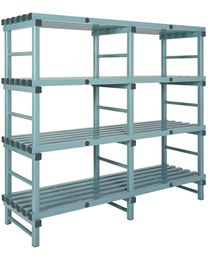 For example, our shelving options are made from Polyethylene for increased protection from spills and potential bacteria growth. It is also exceedingly strong whilst being lighter with increased durability. This makes plastic shelving a fantastic choice for the various food manufacturers, bakeries and fast-food restaurants we have supplied for. But its cost-effective, lightweight construction also makes it an excellent choice for any other warehouse environment also.  
At Alison Handling, we offer plastic storage shelves and plastic pallets in bulk and custom configurations. In addition, our variable H Frames can give you more options as these can be adjusted to suit your stock size specifically.  
Efficiency Through Organisation 
Some solutions can solve your storage needs if you're working with minimal space and cannot accommodate a shelving unit. Euro Stacking boxes are an efficient way of organising what area you have.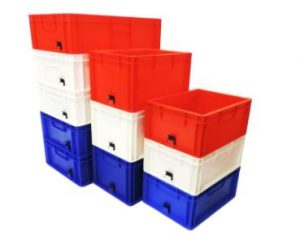 Made from our robust polypropylene material, these durable boxes are designed to be stacked on top of each other whilst protecting the contents inside. Additionally, we can provide them in various colours to assist with the movement of stock through food warehouses and factories. Their lightweight, durability combined with the ability to wash and stack them makes them perfect to suit the requirements of food production.   
Euro stacking boxes are an excellent choice for limited space and any business with a high turnover of stock. Once you've found the right products, you can combine these boxes with our heavy-duty plastic dollies to make transporting them much more manageable. Manual handling is essential in any warehouse. By having these dollies readily available, you can avoid wasting time by carrying one box at a time and stacking several of them for transport simultaneously. After all, the storage is just temporary until you have a buyer or use for the product.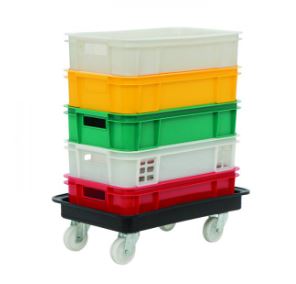 Reusable Storage Solutions  
Alison Handling is one of the UK's largest independent stockists of plastic storage solutions for a broad range of businesses. As a company dedicated to being environmentally responsible, we constantly work to incorporate recycled plastic into our product lines, such as our recycled plastic storage boxes and containers.  
If you are interested in improving your storage solutions today, please feel free to download our entire catalogue, and you can learn more about our products and how they can help your business.